Top-quality audio for Lakes Thriller Series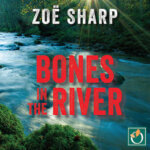 Book 2: BONES IN THE RIVER
Driving on a country road late at night, you hit a child. There are no witnesses. You have everything to lose. What do you do?
We, the readers, learn early on who the hit-and-run driver is—but why is he such a key player in the story, and what's the connection with the bones in the river?
The story begins: "His eyes drifted from the road only for a second. That was all it took…"
The choice is yours: Kindle? eBook? print? or audio?—many hours of leisurely reading or 13-plus hours of top-quality listening. Fiction narrated as you've never heard it before.

Buy  BONES IN THE RIVER now—enjoy listening soon!
Amazon.com    Amazon.co.uk     Amazon.ca    Amazon.com.au    Apple
---
ASIN: B085QNRM62     eBook: 9781909344693     Paperback: 9781909344709     Hardcover: 9781909344716     Large print: 9781909344723
CSI Grace McColl. She is forty, amicably divorced from her husband, Max. Born in the Lakes, she was always a keen photographer, who trained as a crime scene investigator after her photographs were used to help a guilty man go free and he later caused a woman's death. Grace still feels she has much to make amends for. She hides her emotions behind a calm façade that can make her sometimes appear cold. She lives in Orton village, with a Weimaraner called Tallie.
Detective Nick Weston. He is thirty-two, living with his partner, Lisa, a hairdresser, with whom he has a volatile relationship, and a young daughter, Sophie. Nick worked in Firearms in Manchester and then undercover for the Met in London. After he was compromised and almost beaten to death on an undercover op, Lisa persuaded him to transfer up to her native Cumbria, where he is considered an outsider among his colleagues. Nick is still coping with some of the mental and physical after-effects of his experiences.
---
"You don't want to put the book down—who knows what might happen while you're away?"—Goodreads reviewer, Maureen Carden.
"Wow! I loved this one. I tried so hard to take my time and make it last, but I couldn't! I had to know how it ended. I won't say "I had to know who dunnit" because, interestingly, we know from the start. What we don't know, is how they are going to get away with it and how justice is going to be served."—Goodreads reviewer, K D Kinchen.

"Zoë Sharp writes the best women in crime. Grace McColl is very different from Charlie Fox but shares the same toughness and empathy that makes all Zoë's heroines so memorable. The other star is Queenie: tough, loyal and committed; Eleanor, Grace's mother is a nicely rounded strong lady. But that is not all: the atmosphere of rural England and the Gypsies is equally memorable and fascinating. The crimes get solved but you knew they would. I loved it and look forward to the next adventure." —Australian reader, Keith Hurst's review on Amazon.