Top-quality audio for Lakes Thriller Series
It's tricky to produce top-quality audio fiction. Male or female voice? accent? delivery? and a rapport between narrator and story. Hard to define, but you know it when you hear it. And you certainly hear it in the audiobooks of the Lakes Thriller Series, thanks to the technical expertise of Oakhill Publishing and the superb delivery from narrator Lewis Hancock.
English setting, English characters, cool English narration. Judge for yourself from the brief audio tasters below.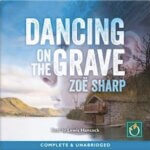 Book 1: DANCING ON THE GRAVE
In one of the most beautiful corners of England, something very ugly is about to take place. There's a killer on the loose, and the calm of an English summer is about to be shattered.
Imagine you're looking over the sniper's shoulder as he lines up his shot. Between heartbeats, he tightens his forefinger round the trigger. But then…
Chapter 1: The story begins: "It is a bad day to die… a perfect one to kill."
These are stories to linger over—each book 125,000 words, 450 pages. Will you choose Kindle? eBook? print? or audiobook—a dozen hours of perfect bedtime listening (or maybe as you commute)?
Buy DANCING ON THE GRAVE audiobook now—enjoy listening soon!
Amazon.com    Amazon.co.uk    Amazon.ca    Amazon.com.au    Apple
---
ASIN: B085HSRPZZ     eBook: 9781909344655     Paperback: 9781909344662     Hardcover: 9781909344679     Large Print: 9781909344686
CSI Grace McColl. She is forty, amicably divorced from her husband, Max. Born in the Lakes, she was always a keen photographer, who trained as a crime scene investigator after her photographs were used to help a guilty man go free and he later caused a woman's death. Grace still feels she has much to make amends for. She hides her emotions behind a calm façade that can make her sometimes appear cold. She lives in Orton village, with a Weimaraner called Tallie.
Detective Nick Weston. He is thirty-two, living with his partner, Lisa, a hairdresser, with whom he has a volatile relationship, and a young daughter, Sophie. Nick worked in Firearms in Manchester and then undercover for the Met in London. After he was compromised and almost beaten to death on an undercover op, Lisa persuaded him to transfer up to her native Cumbria, where he is considered an outsider among his colleagues. Nick is still coping with some of the mental and physical after-effects of his experiences.
---
This is a straightforward, no holds barred, thriller. No one writes this kind of book better than Zoë Sharp. If you haven't read one of her books before, the only question is 'why not?'
Ted Hertel Jr, Deadly Pleasures Mystery Magazine
The quality of Sharp's writing and the frequently changing points of view, all clearly contained within separate chapters, drive the story on at a relentless pace. Both character and plot are well balanced and sharply defined, and even inhabiting the minds of the killers doesn't deliver up all their secrets. Dancing on the Grave is a thriller that delivers on all levels. I found it impossible to walk away until I knew the end of the story.
Linda Wilson, Crime Review
Dancing On The Grave is a dark, tense read that caught me off guard. The author takes us on an exhilarating ride full of twists and turns that had me clinging on to every word. Brilliant book and highly recommend it.
Sarah Hardy, By The Letter Book Reviews