ASIN:B097LN2VMB     eBook: 9781909344792     Print: 9781909344808
Top-quality audio for The Blood Whisperer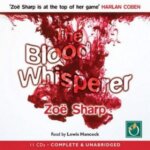 Publisher: Oakhill Publishing
Narrator: Lewis Hancock
Format: Audiobook (11 CDs) ISBN: 9781399105649
MP3: (2 CDs) ISBN: 9781399105004
Audio Download: (Subscribers/Libraries) ISBN: 9781399105387
Listening Length: 13 hours 39 minutes
Treat yourself to a six-minute audio taster from this tense crime thriller.
Chapter 91: It begins: "Kelly came round to the smell of the sawmill and the violent clatter of iron on wood. She was face down on a scratchy surface that gave slightly under her when she floundered up to hands and knees. That was as far as she got for a while, blinking as she tried to clear her head."
Will you choose Kindle, eBook? print? or almost 14 hours of perfect bedtime listening (or maybe as you commute)?
Amazon.co.uk    Amazon.ca    Amazon.com.au
"I loved every moment of this brilliant, mind-twisting thriller."—Elizabeth Haynes.
"What an enjoyable and compelling read… Kelly is a fantastic almost Reacher-esque character. Hope to hear more from her!"—Jane Fenn, on Goodreads.
"…kept me hooked from the first page. Wrongful imprisonment, blood droplets, suicide or was it? Intelligent and interesting. Messy plot twists that gave a real life feel and refreshingly human characters… A splendid read—enjoy!"—Amazon UK reader, Outlaw-in-Exile.