When it comes to themed cafés and restaurants, there's no doubt that Tokyo, Japan leads the world.
Want to go somewhere you can cuddle a hedgehog while you sip your cappuccino? You need to go to the Harry establishment in the Roppongi district. Feel the urge to pick up a penguin while you, er, pick up a Penguin**? Then the Penguin Bar at Ikebukuro is the place for you.
And if it's the world of Lewis Carroll you crave, take a trip down the rabbit hole at the Alice in Fantasy Book restaurant in Kubukicho, Shinjuku.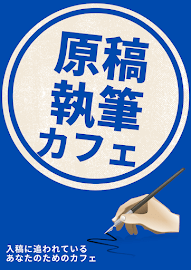 But in April this year, a new themed café opened in the Koenji neighbourhood. The Manuscript Writing Café is run by Tykuya Kawai, who is also a technical writer. It is intended not only to give writers, artists, editors and proofreaders somewhere to work, but as much encouragement as they feel they need to get on with it.
The small café is open afternoon through evening from 1pm to 7pm. It is situated inside a recording and broadcasting studio—Koenji Sankakuchitai—so is open only when the studio itself isn't in use.
Patrons may book one of the ten seats available if they are actively working on a writing project, but this can be anything from a novel to a manga storyboard. The only other requirement is that you must state what you aim to achieve while you're there, and how long you think it will take you.
Kawai charges by time—150 Japanese yen for the first thirty minutes ($1.18/£0.93) and 300 yen per hour after that. For that, you get an unlimited supply of tea or filter coffee, and chairs that do not encourage a relaxed slouch. On the technical side, the café provides high-speed wi-fi, a range of docks and chargers, and even cooling stands so your laptop won't overheat, even if your brain begins to fry.
Customers are, apparently, not allowed to leave before the project is completed, and can request various levels of 'encouragement' from Kawai. This varies from just enquiring into progress at the end of the allotted session, to hovering behind the writer's chair and, presumably, giving the occasional quiet tut. There is no music unless the writer puts on headphones, and the ambient noise from outside is enough, it seems, to provide a subtle stimulus.
I know many writers who do their best work in local cafés. There's something about the background buzz that allows them to concentrate far better than being at home. Plus, being away from home means not being distracted by any one of a dozen different domestic tasks that are clearing their throats on the sidelines.
Personally, I like any working environment. If I'm at home, I'll work at my desk, outside in the garden, with my feet up on the sofa (if I don't get pinned down by a cat) or in bed. Last week, I had two appointments in a town about ten miles away that were just too far apart to leave me at a bit of a loose end between them, but not far enough to make it worthwhile making two trips.
I sat in the sunshine with a notebook, and made a decent amount of plotting progress.
What about you? Do you like the sound of the Manuscript Writing Café, or would it be your worst nightmare? The only drawback, as far as I can see, is the fact that it doesn't actually serve food.
This week's Word of the Week is cunctator, from Latin meaning delayer or procrastinator. It was applied as an agnomen or honorary surname to Quintus Fabius Maximus Verrucosus, a third-century Roman statesman and general. Fabius was a magistrate (censor), consul, and dictator of Rome, who faced Hannibal's forces during the Second Punic War. His initial tactics of avoiding direct confrontation against a larger and more formidable foe gained him the title Cunctator, initially intended as an insult. However, his strategy of wearing down the enemy by attacking supply lines and by smaller skirmishes proved successful in the long run. Fabian tactics were later regarded with due respect.
**This phrase will not mean much to anyone who does not remember the UK TV advertising campaign for the chocolate-covered Penguin biscuit bar, which ran for years with the slogan, "P-p-p-pick up a Penguin!"
You can read this blog, or comment, at Murder Is Everywhere