It seems a long time ago now that Richard J Brewer and Gary Phillips dropped me an email, asking me to contribute to a project they were putting together. It was called CULPRITS: The Heist Was Only The Beginning.
What I initially thought was a short story for an anthology turned out to be more of a chapter for a collaborative novel, where Richard and Gary dreamed up the scenario of a heist gone wrong, then gave the characters of those involved to a number of different authors to work out what happened next.
I wrote about the background to this amazing project in a blog back in 2021, so I won't go into it again here. Suffice to say that I had a blast doing it, and the book received a great reaction when it came out, both in print and eBook format, and more recently in an audiobook edition.
The clever concept brought it to the attention of J Blakeson, a talented writer, director, and producer, whose previous work includes movies 'I Care A Lot' with Rosamund Pike and Peter Dinklage; 'The Disappearance of Alice Creed' with Gemma Arterton, Martin Compston and Eddie Marsan; as well as TV series such as 'Gunpowder', with Kit Harington, Liv Tyler, Mark Gatiss and Peter Mullan.
Blakeson has penned his own take on Culprits, using the heist getaway and subsequent pursuit across eight episodes, again with Gemma Arterton in a starring role. The Guardian's opinion was that Culprits was "a confident, stylish series with a brilliant cast … an exciting, fast-paced watch that puts it at the top of its genre."
The series is just about to come to a small screen near you – on Disney Plus in the UK and Hulu in the States. You can take a peek at the trailer here.
I'll certainly be watching the series, although I don't expect much – if any – of our original story will have survived the transition. Nevertheless, it will be great fun to see what the cast and crew have done with it.
And if you're curious about the source material, why not give the original CULPRITS a try, in book or audio?
The jacket copy runs: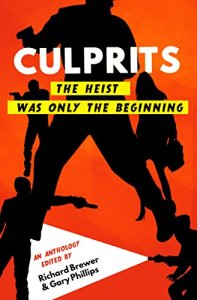 Some stories are all about the crime. These stories are about the maelstrom of what happens after…
A hard-bitten crew of professional thieves pull off the score of their lives, coming away with seven million in cash. Like any heist there are some unforeseen complications, and unfortunately they don't get away without a few bodies dropping. But despite this, they get away with the swag. Seven million. Enough to change their lives, make new identities, start fresh. But that's when the real trouble begins…
In this unique, riveting, linked anthology, we follow each member of the crew of culprits as they go their separate ways after the heist, and watch as this perfect score ends up a perfect nightmare. Featuring stories penned by acclaimed writers Brett Battles, Gar Anthony Haywood, Zoë Sharp, Manuel Ramos, Jessica Kaye, Joe Clifford, and David Corbett, CULPRITS examines what happens next to these criminals once they take their cut and go their separate ways, only to find that the end of the heist was the beginning of their troubles.