MURDER IN THE RHUBARB TRIANGLE
Saturday, June 17 2023, 09:30-16:00
Wakefield Library, One Burton Street, Wakefield WF1 2EB

Did you know that June is National Crime Reading Month? I shall be appearing at Wakefield Library in celebration, along with thirteen other crime authors, as part of Murder in the Rhubarb Triangle, on Saturday, June 17 2023. There will be panel events and signed copies of books. Question and answer sessions. Four different sessions will take place between 09:30 and 16:00, each with different authors.
The event has been organised by local author Catherine Yaffe, Wakefield Library, and indie bookstore Darling Reads. All are getting involved in the Crime Writers' Association's National Crime Reading Month during June, with a full day of crime featuring some of the region's top crime authors.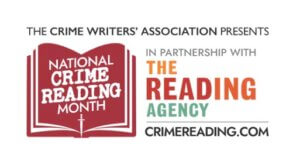 National Crime Reading Month is an initiative developed and run by the Crime Writers' Association, this year in collaboration with The Reading Agency, which aims to bring new books to existing readers and new readers to the world's most popular and best-selling genre. Wakefield Library are plotting to bring readers the very best of 'crime by local authors' and get everyone to #PickUpAPageTurner, with Horbury-based bookshop, Darling Reads running a pop-up shop in Create Café, which will also open to support the event.
The Programme
9.30am-10.30am – Discussing cosy/historical crime are Anne Wedgewood and Andrew White.
11am-12pm – Discussing Psychological crime/ thrillers are Anthony Dunford, Derek Farmer, Dale Brendan Hyde and Zoë Sharp
1pm-2pm – Police procedural discussion with Ann Bloxwich, Chris McDonald, Liz Mistry and OMJ Ryan.
2.30pm – 3.30pm – Police procedural/thriller with Bob & Carol Bridgestock, Geoff Major and Catherine Yaffe.
Book your slot to join the author panels. Book as many sessions as you wish. Tickets are FREE.
Click here to book: https://www.ticketsource.co.uk/whats-on/wakefield/wakefield-library/murder-in-the-rhubarb-triangle/2023-06-17/d-eaegykugbenyp
The venue has accessible facilities, a lift to all floors, and an induction loop.
When we're not on panels, the authors will be available to chat about all things crime-related. Erm, in a fictional sense, of course.
And if you want to know more about the mysterious Rhubarb Triangle, you'll have to come along and find out!